Have you laughed today? Laughter, along with an active sense of humor, is one of the best stress relievers around. When laughter is shared, it brings people closer together and increases everyone's overall mood and health.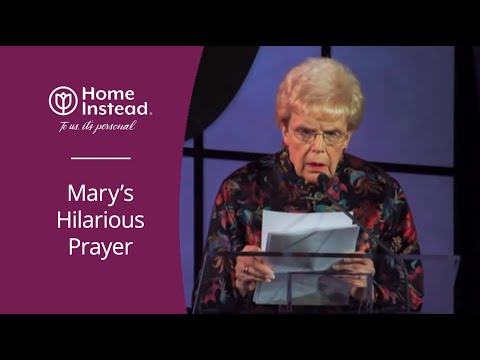 Recently I sat in the audience as a friend of the couple who founded Home Instead Senior Care, Mary Maxwell was asked to give the invocation at the company's 2009 Convention. Initially it seemed like a normal prayer, but it soon took a very funny turn. Her deadpan delivery soon had the franchise owners rolling in the aisles. With the timing of a professional comedian, Mary shines a very funny light on the foibles of aging, to the delight of this audience of senior-care experts.
Since then, over 8 million people have seen Mary's YouTube video. I've had numerous friends send it to me thinking that I hadn't seen it. Recently, even a neighbor brought it to my attention and he was surprised when I told him that I was in the audience when Mary delivered that invocation!
Life is short, laugh often! Enjoy!